Exhibition Items
줄기세포와 의약품 연구, 개발을 하는 바이오 회사가 만든 더 펩타이드는 피부과학의 중심 원료인 각종 펩타이드를 함유하고 있습니다. 더 펩타이드는 각종 펩타이드 원료뿐만 아니라 피부 개선에 도움을 주는 성분을 함유하여 피부 관리 전문가가 사용하기에 적합한 화장품입니다. 주요 유통 채널은 리더스 피부과를 포함한 국내. 외 병원, 에스테틱 샵 등이 있으며 전국 고객님들의 니즈를 반영한 온라인몰(펩샵)을 운영하고 있습니다.
`The Peptide` for professionals is developed by the bio-technology company that researches and develops stem cells and specialized in cell technology and medicine. The Peptide contains the cutting edge cell technology that improves skin condition and key factors for total skin regeneration including various types of peptide. The main distribution channels are hospital, clinic, and esthetic worldwide including one of the top domestic dermatology clinics 'Leaders'. There is an online shop called 'PepShop' for reaching the needs of all customers throughout the country.
Company Profile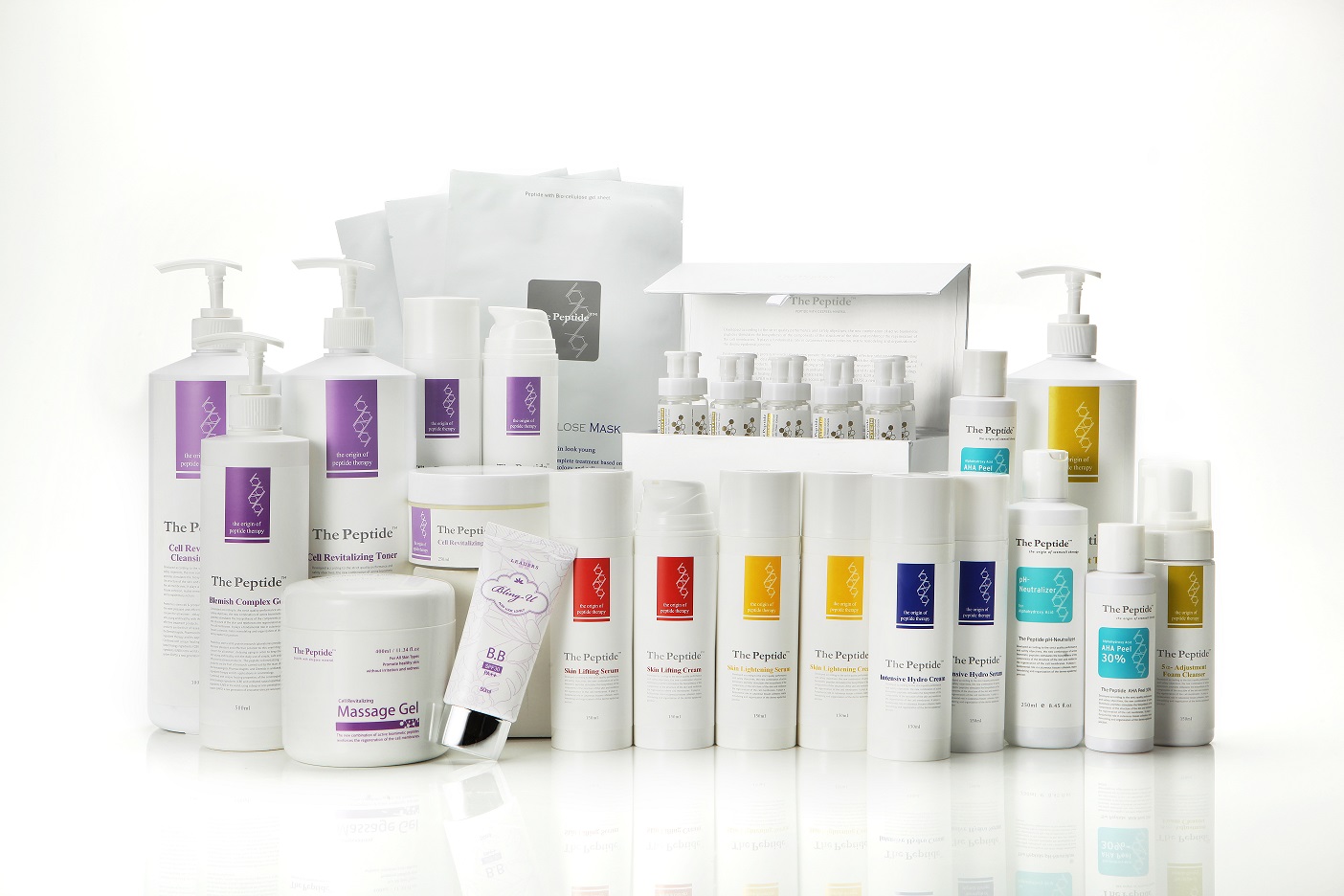 프로스테믹스는 성체줄기세포를 이용한 의학, 약학, 생명과학 분야를 연구하는 바이오 기업으로 지방에서 추출한 줄기세포를 이용, 세계 최초로 줄기세포 배양액 단백질(원료명:AAPE)을 PCPC(구CTFA, 미국화장품협회)에 화장품 원료로 등재하였습니다. 당사 제조의 화장품으로 AAPE 홈케어, 더펩타이드,아오아, 나다의 브랜드가 있습니다.
Prostemics is the Bio-technology based company which has the R&D fields in medical science, pharmacy, and life science using adult stem cells. Using stem cell which is extracted from fat, we registered stem cell conditioned media extracts(proteins and growth factors) as a cosmetic raw material to PCPC for the first time in the world. Utilizing AAPE which has a similar effect as stem cell, we have manufactured various medicines, develop cosmetic raw material from stem cell protein, and make cosmetic products related to this raw material and distribute our product as well. Field of Research : Wound healing, burn healing, hair growth, anti-wrinkle, whitening and antioxidant effect PCT application : Mass producing method of growth factor using adipose derived adult stem cells. There are three products of stem cell protein cosmetic : AAPE home care, The Peptide, aooa, nada. AAPE homecare is the top class home care cosmetic made by prostemics`s specialties and included stem cell cultivating protein.